Description
✔MIX DIFFERENT DISPLAY STANDARDS – This device is an MRO (Multi-Resolution Output) splitter and works as a scaler, supporting multiple or mixed resolutions, allowing for the combination of SD TVs (1080p) with 4K@60Hz TVs. *Note* Connect the HIGHEST Standard TV to Output 1 and set EDID to "Mixed" mode to use the MRO/Scaler function.
✔HDMI 2.0 STANDARD HDR & EDID COPY ABILITIES – This MRO splitter supports 18Gbps bandwidth, HDR10 and Dolby Vision. It is compatible with 4K@60Hz 4:4:4 as well as 1080p. NOTE: Source Devices and all connected TVs MUST support Dolby Vision/HDR10 in order to experience the quality and image that Dolby Vision/HDR10 offer.
✔1 INPUT TO 2 OUTPUTS – This device distributes 1 HDMI signal to 2 HD displays simultaneously and is compatible with devices such as a PS4 Pro, Xbox One S, Roku 4, 4K Apple TV, Set-Top-Box, Blu-ray player and more.
✔ HIGH DEFINITION AUDIO – This splitter will pass HD audio formats from your source, such as: PCM, LPCM 7.1, Dolby TrueHD, Dolby Digital Plus, and DTS-HD Master Audio.

Feature

1. Simultaneously displays an UItra Hi-Def source on up to two UItra HD displays
2. Supports resolutions up to UItra HD 4Kx2K(3840x2160@60Hz YUV 4:4:4 )
3. Supports three kinds of EDID handling abilities
4. Supports HDCP2.2/1.4 Compliant
5. Supports 36 bit Deep Color
6. Supports LPCM 7.1, Dolby  TrueHD, Dolby digital  Plus, and DTS-HD  Master Audio.
7. Support 3D
8. Bandwidth 18G
9. Support HDR
10. Support online firmware upgrade via Micro USB Port

User Manual

Diagram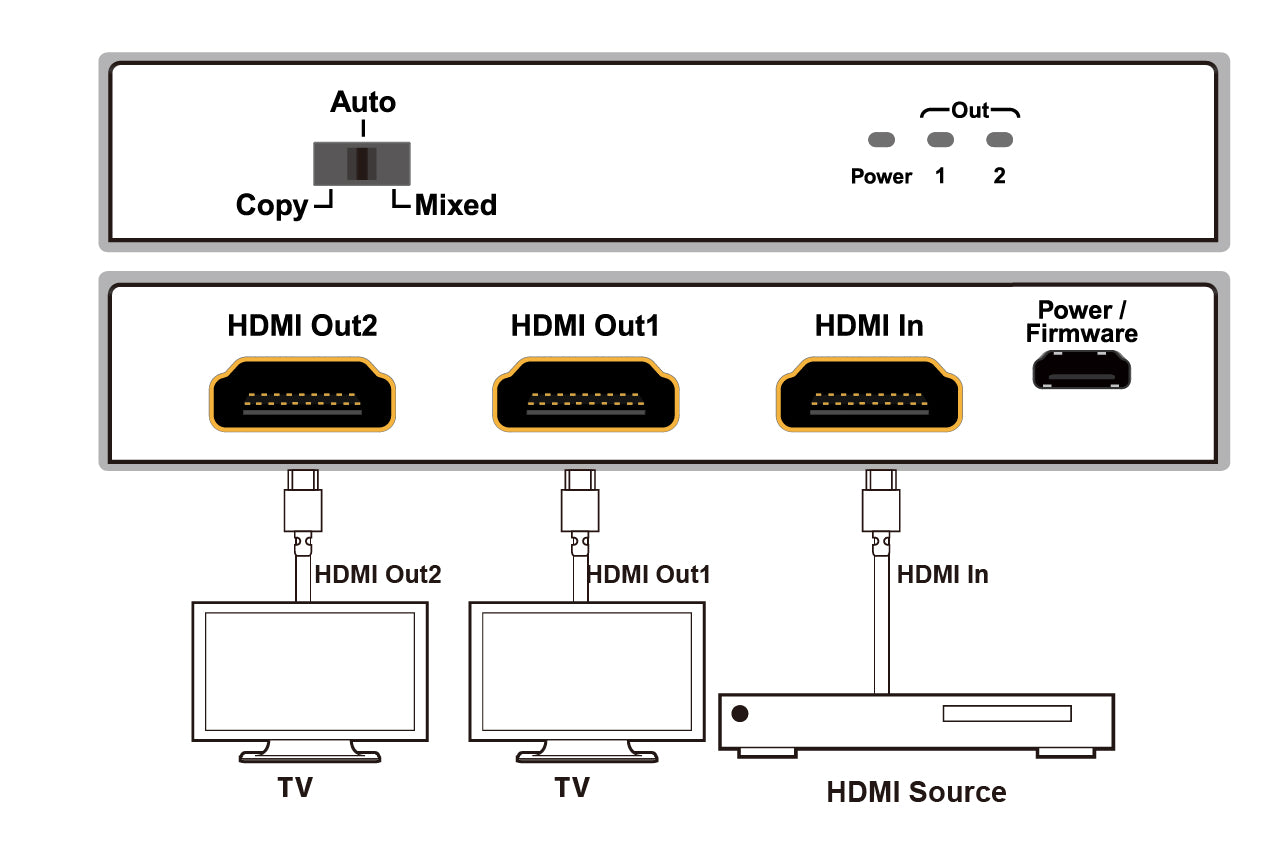 Payment & Security
Your payment information is processed securely. We do not store credit card details nor have access to your credit card information.