Description
✔ 4-PORT HDMI 2.0 SPLITTER – Distributes HDMI video & audio from a single source to 4 HDMI displays simultaneously without signal degradation. Compliant with HDMI 2.0a, HDCP 2.2/1.4 with 18Gbps bandwidth. 
✔ 4K HDR VIDEO & AUDIO – Supports up to 4K @60Hz (4:4:4 8-bit), HDR at 4K @60Hz (4:2:0 10-bit), 3D, Deep Color. Supports 7.1/5.1/2.1-ch audio, and the latest HDMI digital audio formats. 
✔ AUTO VIDEO DOWNSCALING – Supports mixed 4K & 1080p display outputs. A 4K video source device can simultaneously display 4K content to 4K monitor(s) and 1080p content to 1080p monitor(s) via downscaling. Does NOT support mixed 2K & 1080p outputs. Use Elgato or other game capture device to record game play footage in 1080p, while actually playing in 4K. *Note: Does NOT support resolution downscaling from 4K @60Hz "YUV 4:2:2" to 1080p
✔ ADVANCED EDID MANAGEMENT – Supports 8 comprehensive EDID settings, The default EDID setting (U/U/U/U) works for most situations, including 4K to 1080p downscaling. Atmos is supported via AVR EDID mode (U/d/d/U). Firmware upgradable. Contact us if you're unsure which EDID to use

Feature

1. Simultaneously displays an UItra Hi-Def source on up to four UItra HD displays
2. Supports resolutions up to UItra HD 4Kx2K(3840x2160@60Hz YUV 4:4:4 ).
3. Supports three kinds of EDID handling abilities
4. Supports HDCP2.2/1.4 Compliant
5. Supports 36 bit Deep Color
6. Supports LPCM 7.1, Dolby  TrueHD, Dolby digital  Plus, and DTS-HD  Master Audio.
7. Support 3D
8. Bandwidth 18G
9. Support HDR
10. Support online firmware upgrade via Micro USB Port.

User Manual

Diagram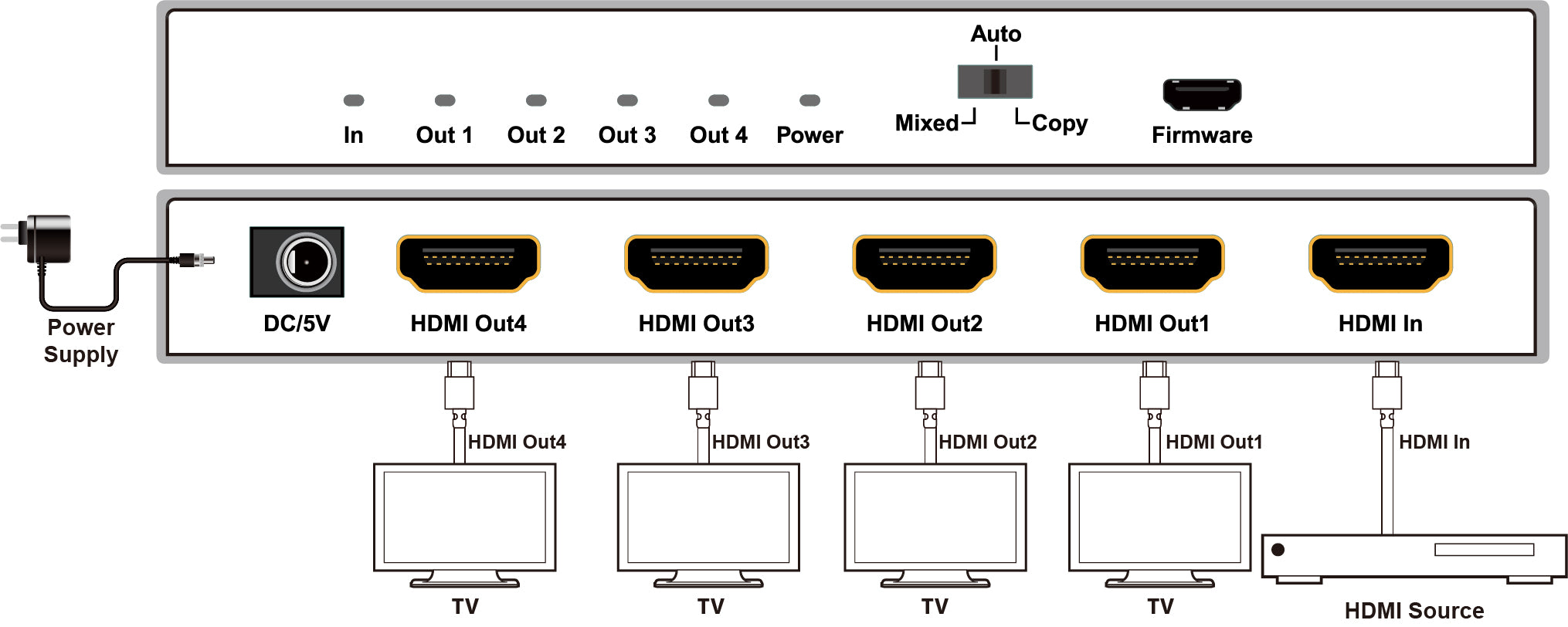 Payment & Security
Your payment information is processed securely. We do not store credit card details nor have access to your credit card information.