Description
✔ COMPLETE 1080P KIT - Includes 1 Transmitter & 8 Receivers. Extend and distribute 1 HDMI source to 8 HDMI displays over CAT5e/6/7 simultaneously. Embedded Silicon Image chipset for best quality, compatibility and reliability
✔ HDMI LOSSLESS TRANSMISSION RANGE - Extends HDMI audio/video signals to synchronous output video display(s), is as fluent as direct connection; Supports up to 50m (165ft) at 1080p@60Hz with CAT5e/6/7 and surround sound up to 7.1-channel or stereo digital audio; Compatible with HDCP compliant devices & content. * Good quality CATx cables are essential in delivering quality content
✔ HDMI LOOP-OUT & EDID MANAGEMENT - The transmitter couples as a splitter as it is equipped with an HDMI out port to connect to a local display (5th display) for monitoring purposes or cascade HDMI signals to 4 layers; Easy-to-follow EDID configurations (nine built-in EDID resolution options) via DIP switches allow you to experience audio and video in the highest settings possible based on the capabilities of your display
✔ ADVANCED FEATURES - Bi-Directional IR Remote Control allows you to remotely control a media player/ device from the TV side or control a TV from the device side

Feature
1. Distribute 1 HDMI signal to 8 identical UTP outputs synchronously,with 1xlooping HDMI output.
2. Transmit over 50m single Cat5e/6 cable.
3. Can be cascaded for 4 layers.
4. With wide-band Bi-Direction IR control (38 ~ 56 kHz).(IR extension from Sender to Receiver or from Receiver to Sender)
5. Support Full HD 1080p, VESA resolution: 1920x1200
6. Support 3D.
7. Support Dolby  TrueHD, DTS-HD  Master Audio.

User Manual

Diagram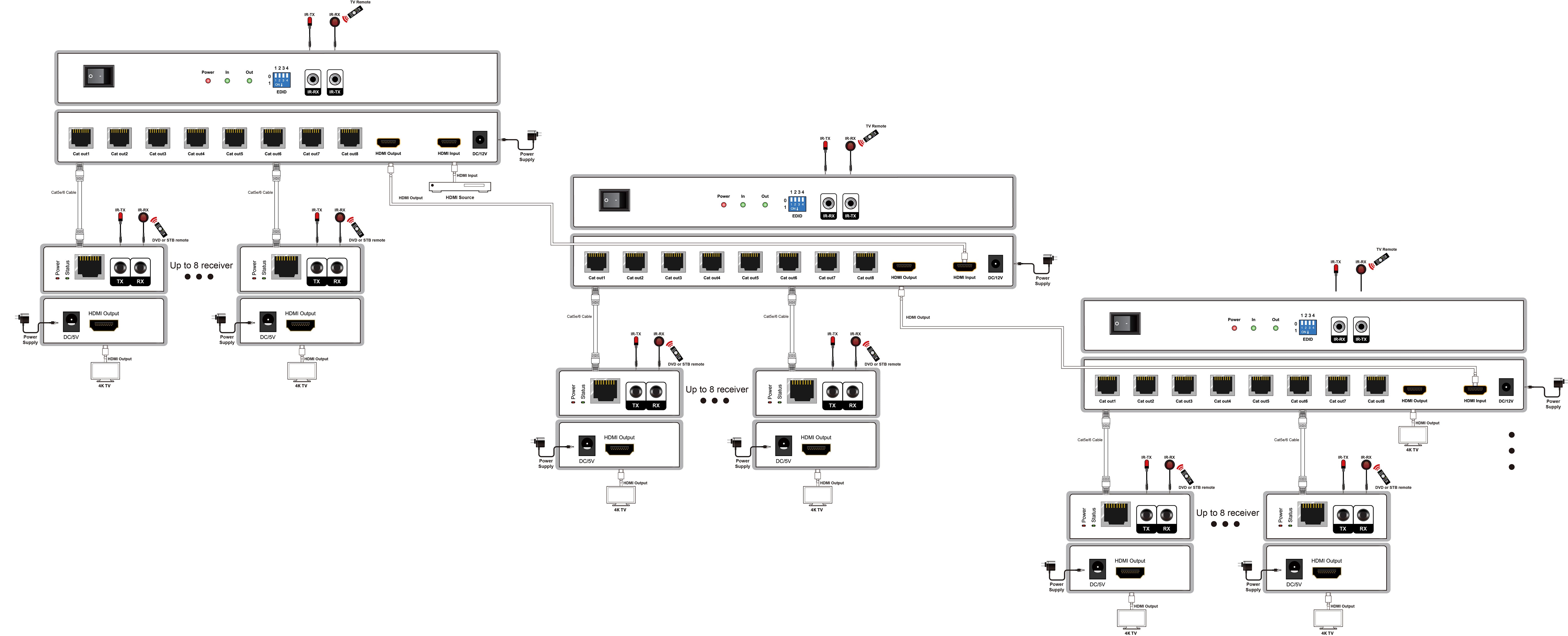 Payment & Security
Your payment information is processed securely. We do not store credit card details nor have access to your credit card information.