Description
✔ COST-EFFECTIVE SOLUTION – Extends HDMI audio/video signals over a CAT5e/6/7 cable up to 165ft; * Note: A good quality CAT5e/6/7 cable is essential in delivering quality content; Use a straight-through Ethernet cable and NOT crossover. 
✔ HDMI LOSSLESS TRANSMISSION with ZERO LATENCY – It extends HDMI audio/video signals to synchronous output Video display is as fluent as direct connection Supports 480i/480p/720p/1080p at 60Hz video resolutions
✔ DEEP COLOR – Supports up to 36-bit Deep Color with CAT6, 1080p 3D. HDMI 1.3 compliant. Supports EDID pass-through and EDID copy
✔ DIGITAL AUDIO – Supports lossless compressed digital audio: Dolby TrueHD, DTS-HD Master Audio; Compatible with HDCP compliant devices & content
✔ SIMPLE INSTALLATION – No driver required; Surface-mountable metal housing provides durability and minimizes EMI/RFI noise interference. FCC, CE & RoHS compliant
✔ADVANTAGE –Support EDID and Bi-directional wide-band IR

Feature

1. Allows HDMI Audio/Video Signals and IR to be transmitted over a 50m single Cat5e/6 Cable.
2. Transmits a wide-band (38K-56KHz) Bi-Directional IR control signal together with the HDMI signal.
3. Supports 24bit Deep Color.
4. Automatically adjusts feedback, equalization and amplification.
5. EDID DIP switch on Transmitter to enhance EDID communication between sources and displays.
6. Supports PCM ,Dolby Digital™, and DTS Digital Surround™.
7. Follows IEEE-568B cable termination standards.
8. Supports 3D video format.

Diagram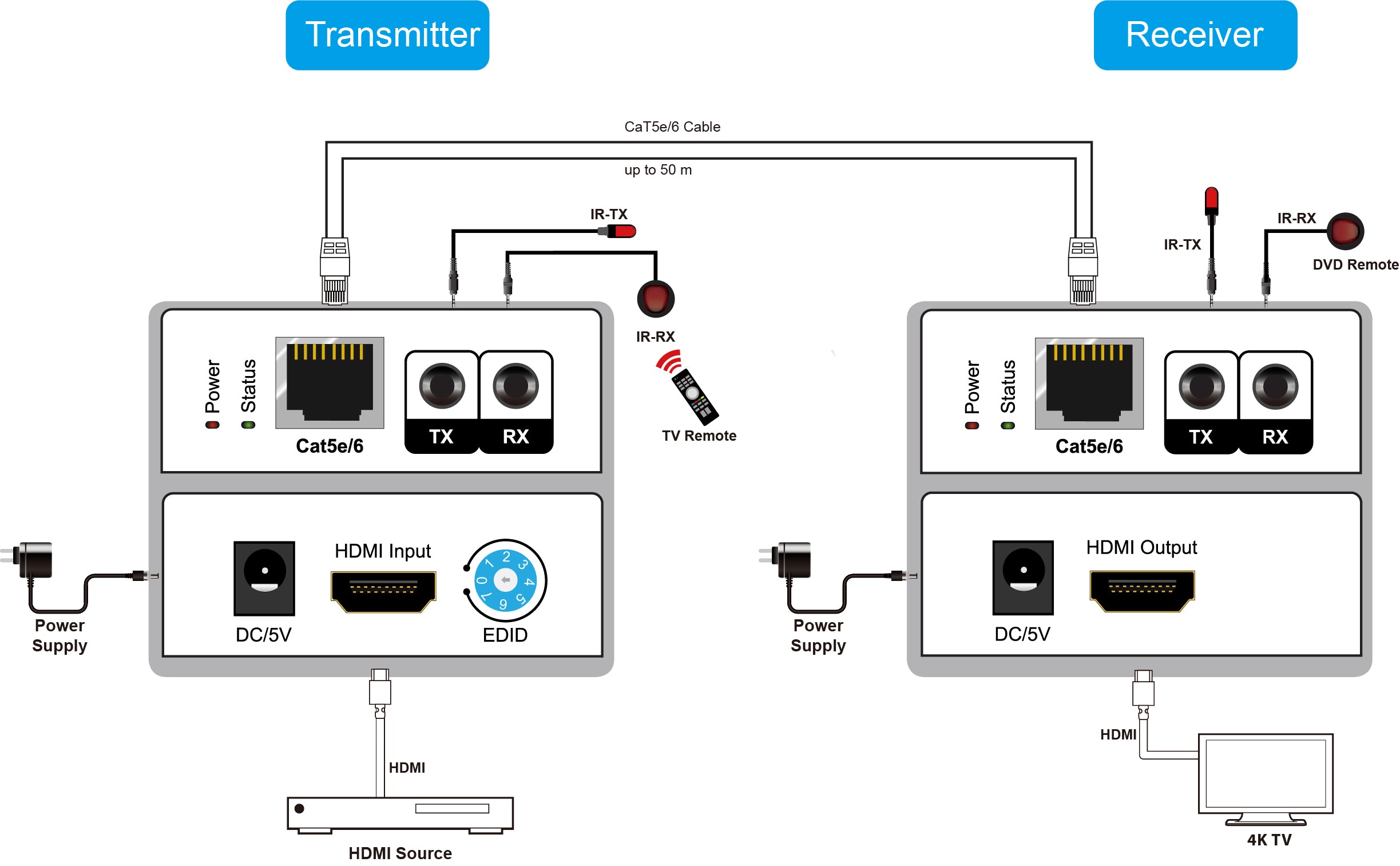 Payment & Security
Your payment information is processed securely. We do not store credit card details nor have access to your credit card information.