Description
✔USB 2.0 Extender - USB Extender over single Cat5e/Cat6/Cat7 cable max up 50 meters. Support 4 USB2.0 ports. USB2.0 high-speed transmission (up to 480Mbps). Only one power adapter is needed.
✔High Compatibility-USB over Ethernet supports all operating systems: Windows, Mac OS, Unix, Android, Linux etc; High compatibility with USB 1.1 and USB 2.0 peripheral devices. Support keyboards, mouse, webcam, USB microphone, printer, scanner, etc.
✔POC Function - Support POC unilateral power supply(DC 5V). Only one power adapter can support the entire kit operation, reducing a lot of complicated operations. It is simpler and convenient.
✔Easy Installation -Plug and play, no driver is needed, the metal shell is sturdy, the fuselage is equipped with heat dissipation ports, which effectively reduces the damage caused by heat to the machine and prolongs the service life.

Feature

1. Each set includes one transmitter and one receiver.
2. 1 in 4 out USB2.0 extender,data transmission upto 50m over a single Cat5e/6 cable.
3. Build-in USB2.0 concentrator,support downward compatibility.
4. Support various operating systems,MAC OS v8.6 and above version,windows7/8/10,Linux system.
5. Support low-power dissipation,transmitter no need extra power supply.
6. Support hot plug,without installing driver.
7. Support keyboard/mouse hibernate or awaken PC in long distance.

Diagram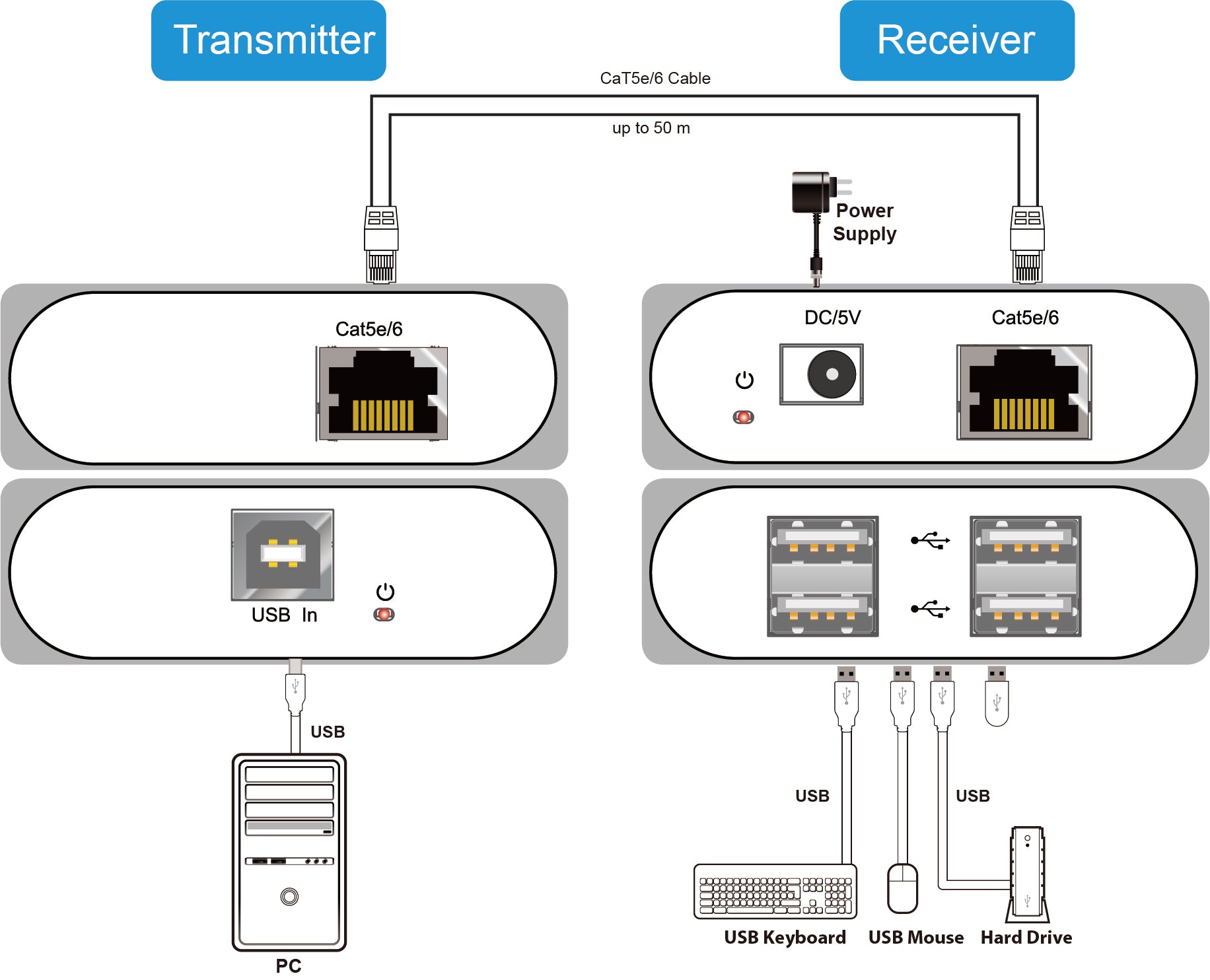 Payment & Security
Your payment information is processed securely. We do not store credit card details nor have access to your credit card information.