Description
✔ 5 PORT 4K HDMI SWITCHER – Connect and switch between 5 HDMI source devices on 1 HDMI display for smooth transitions between television, gaming, movies, etc. (5 inputs & 1 output) Ideal for the HDTV, monitor or projector with only a single HDMI port and reduces the clutter of cable connections to your TV or other display.
✔ REMOTE or MANUAL SWITCHING – Remotely switch your HDMI sources (such as a cable box, Blu-ray player, media player) without having to leave the comfort of your couch, with the included remote control. Manual switching from buttons on the device is also available. IR receiver extension cable included.
✔ ULTRA HD 4K VIDEO – Supports up to 4K resoluton @60Hz with YUV 4:2:0 and 4K @30Hz with YUV 4:4:4 (DOES NOT SUPPORT 4K @60hz with YUV 4:4:4), 1080p, 3D, CEC, 10.2 Gbps video bandwidth. Compliant with HDMI 1.4 and HDCP 1.4 standards. Also works with other popular resolutions, such as 2560x1600, 1920x1200, 1080p (1920x1080), and 720p (1280x720). * Please note that game consoles with native 4K @60Hz with YUV 4:4:4 (such as XBOX One S) will display in 1080p
✔ ADVANCED AUDIO – Compatible with Dolby TrueHD, DTS-HD master audio 7.1-channel

Feature

1. Select one of 5 different HDMI Signal input sources and switch to 1 HDMI display.
2. Manual or with remote controller to select input signals.
3. Resolution reach up to 4k@60hz YUV 4:2:0.
4. Support 36bit deep color display.
5. Support High Definition Audio: Dolby TrueHD, DTS-HD Master Audio.
6. Support Resolution up to Ultra HD 4Kx2K@30Hz, Full HD 1080p.
7. Support CEC.
8. Support 3D.

Diagram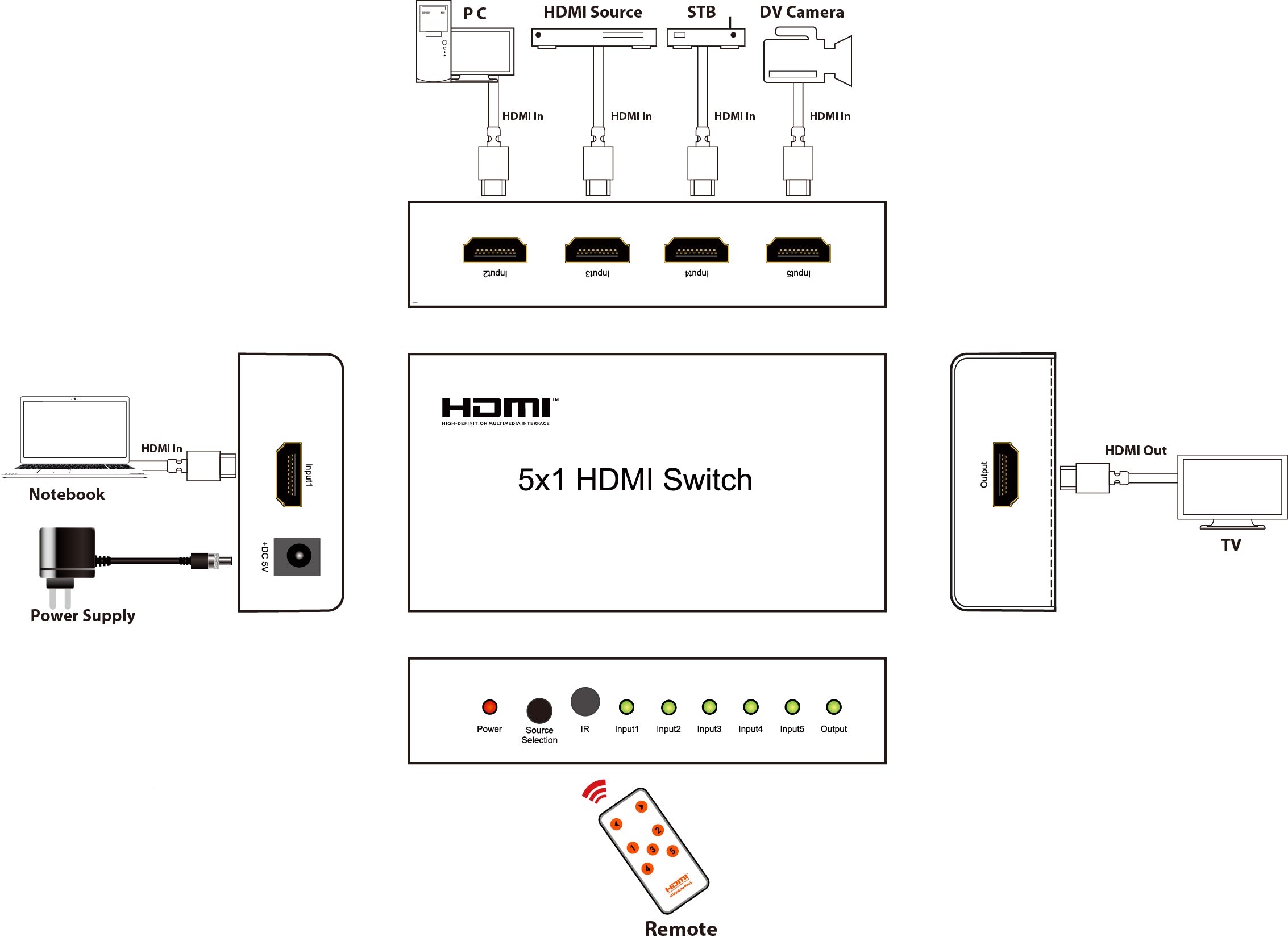 Payment & Security
Your payment information is processed securely. We do not store credit card details nor have access to your credit card information.