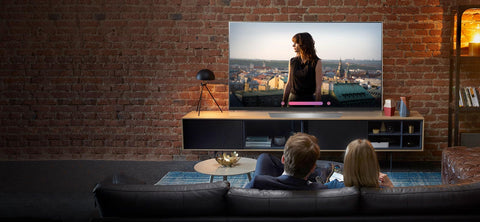 HDMI cables have transformed the entertainment experience by both increasing the number of devices that can be linked to our TVs and standardizing connections. Though they have made video watching much more enjoyable by allowing us to see 4K, 3D, and other technologies well, one major problem with HDMI is the length of the cords.
There are a number of factors that affect the maximum length for your HDMI, including how long the cord needs to be, differences in the output from your device, any interference, and any other technical requirements. 
The challenge here is that once your signal's maximum length is reached, you lose quality. Imagine buying the newest and best Ultra 4K HD TV with all the bells and whistles. You get so excited because the salesperson told you that it will feel like you can smell the sweat from the big game. You plug everything in and turn the tv on and all you get is something that looks like this.
How do HDMI signal extenders help?
HDMI extenders help where HDMI cables are lacking—distance. HDMI cables only reach 50 feet before signal deterioration settles in. If you've ever experienced your display pixelating, lagging, even with total picture loss, a common fix is an HDMI extender.
An HDMI extender is a point-to-point device that does exactly what its name implies: it extends an HDMI signal from a source (cable box, game console) to the display. To extend an HDMI signal, HDMI extenders use category cables, or CAT cables; basically what you connect your laptop to your router with for internet access.
CAT cables are more efficient to run through walls, attics, and crawl spaces versus an HDMI cable with a bulky connector head. Another benefit to CAT cables is they are less likely to fail over time, unlike HDMI cables.
Different types of HDMI signal extenders 
There are several types of HDMI extenders, and the type you ultimately need depends on your needs and personal preferences.
HDMI extender over Cat5e/6 or HDMI over fiber or HDBaseT extender or wireless HDMI extender. 
Before you buy an HDMI Extender 
If your run is 50 feet or less and you're not worried about seeing the cables, a simple HDMI cable should be enough. For anything other than that, an HDMI extender may very well be necessary. If you need help deciding on what you need, feel free to contact us.