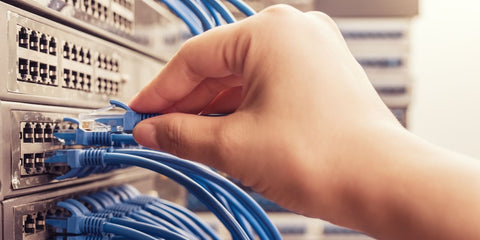 Building a network with minimum cables has become an important requisite for businesses these days. This is because cable cluttering may result in confusion and accidents if not managed properly. Fortunately, several technologies have been developed to accomplish this.HDMI Over IPis increasingly popular and have gained immense acceptance owing to their beneficial features. HDMI over IP distribute high-definition video signals from  multiple sources to multiple screens using the existing Ethernet infrastructure. It can be used for many setups like: point to point ; One to many or many to many distribution  which can switch from any sources to any sinks ;Videowall processing which can build 2x2, 2x4, 1x8 upto 16x16 ect;
What is HDMI Over IP?
As discussed earlier, HDMI over IP or HDMI transmit high definition audio and video over Ethernet using devices such as switches, extenders, adapters, and Ethernet-enabled HDMI cables. These devices distribute received signals to multiple destinations without any degradation. An Ethernet HDMI cable can support a high speed of 100Mb per second required for the most demanding networking applications. HDMI over IP is best suited for long-distance data transmission. It uses fiber optic cables and AV/KVM extension devices for transmitting audio or video over long distances at a high resolution.
Why HDMI Over IP?
Flexibility
The use of each port as transmitter or receiver only controlled by number of Video ENC or DEC units connected to the IP switch. This ratio can also be changed at any time after installation by adding or removing ENC or DEC units on any of the ports. By its nature none of the ports are designated transmitters or receivers so any of the ENC and DEC can be added or removed on any of the ports. That is a remarkable flexibility that was never available with a traditional HDMI, DVI, VGA or HDBaseT AV switch.
POE Power Over Ethernet
HDMI Over IP being a fully standard IP interconnection technology can take a full advantage of POE. Standard POE is 48V technology with a lot of commoditized technology available on all levels of the products manufacturing: modules, IC, IP switchers, Injectors, separators and etc. The HDMI Over IP Encoder or Decoder average power consumption is ~10W. So, 48 port IP switch has to be able to supply at least 480W of POE power. That is especially handy for the DEC unit that are usually located between TV monitor and the wall and have a limited access to the power. Sometimes ENC are also mounted inside the Conference room and can also benefit from the access to POE switch. This was never available in pure HDMI system
IP Switch Expandability
IP switches are available in one unit switchers up to 48 ports. But what if you need a matrix larger than 48 Encoders and Decoders? IP switchers can be stoked up to create larger configurations. The key point here is transferred data rate between switchers. 
Connection length
HDMI Over IP system will follow all generic IT/IP cable recommendations. Usually they are not to exceed 330 feet from source or sink to the switch and from the switch. That is comparable with state of the art HDBaseT cable length capabilities. If longer than 330 feet is needed, there are a few standard IT technologies available: fiber or coaxial. The length can be also doubled by utilizing IP switch as a repeater between ENC and DEC effectively doubling connection length to 660 feet for twisted pair cable.